ULMA assumes the presidency of PACK-NET (Spanish Technological Platform for Packing and Packaging)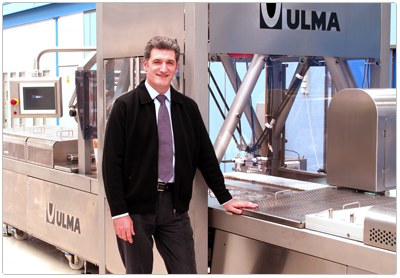 PACK-NET, the Technological Platform for Packing and Packaging, continues to progress. The participants of this pioneer Spanish initiative have come together for a General Meeting in Madrid to elect their Advisory Council (the Platform´s governing body). Francisco J. Etxaniz, of ULMA C & E, S. Coop, has been unanimously elected as the association´s President. Additionally, SAICA (Sociedad Anónima Industrias Celulosa Aragonesa), ANAIP, REPACAR and AFCO have assumed the platform´s four vice-presidential roles.
The Spanish Technological Platform for Packing and Packaging (Plataforma Tecnológica Española de Envase y Embalaje) has held its first General Meeting in Madrid.  The attendees included representatives from the packaging sector´s leading associations that participate in this initiative, recyclers and integrated management systems, as well as companies that joined with the objective of addressing the sector´s R&D&i needs.
After the Hispack Trade Fair, which is the main packing and packaging sector trade fair in Spain, this initiative is the next most important.  It has brought together the leading associations in order to transform, with a completely practical focus, the sector´s current and future needs into specific projects and initiatives that will contribute towards advancing and competitively positioning the sector.
AFCO, ANAIP, ANFEVI, FAPROMA, ASPACK, FEDEMCO, REPACAR, ASPAPEL, PLASTICSEUROPE IBÉRICA, GRAPHISPACK ASSOCIATION, AMEC ENVASGRAF, SIGRE MEDICACIÓN Y MEDIO AMBIENTE, ULMA C & E, S. Coop, EMBALAJES SERRAENVÁS, CARPA, SAICA, GRUPO ARMANDO ALVAREZ, TECNICARTÓN, RAFAEL HINOJOA and SAICA NATUR attended this meeting.
During the General Meeting, the election of the Advisory Council took place, as well as the approval of "The Platform´s Future Trends and Lines of Research" document.  Upon considering the current packing and packaging scenario, it was decided to create the following work groups:  packaging and consumers, safety and quality in the process, production technologies, packaging distribution, and waste management and sustainability.
As part of this General Meeting, the Platform´s Work Plan for 2009-2010 also took form, with a strong commitment towards the consolidation and the development of cooperative agreements with other domestic and international networks.  Finally, the Technological Institute for Packaging, Transport and Logistics (ITENE) was ratified as the Platform´s Technical Secretariat.