ULMA Packaging offers packaging solutions designed for e-commerce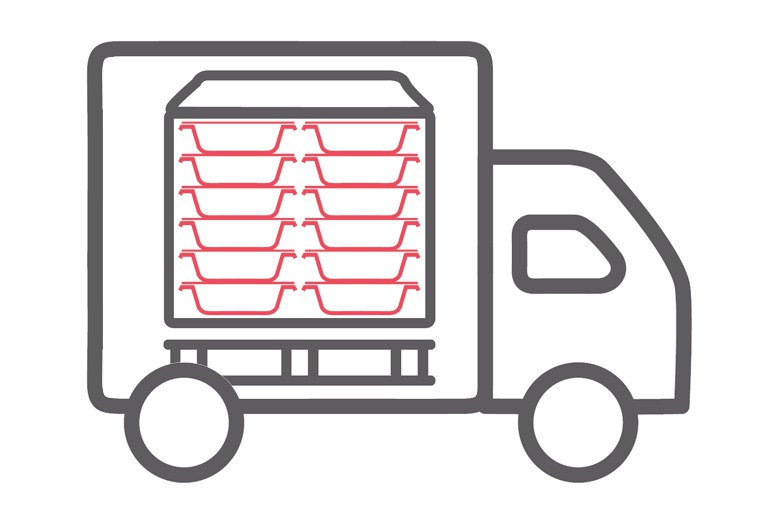 E-commerce has become one of the preferred purchasing channels of consumers, both when ordering home food deliveries and stocking their pantries. The food industry is facing the challenge of adapting its packaging to the current scenario, which was already on an upward trend and will continue to grow.
As one of the leading companies that provide packing and packaging solutions for the food sector, ULMA Packaging is able to meet the new requirements of the food industry. Our wide range of solutions and our investment of resources in innovation allow us to meet our customers' packaging needs, adapting them to the new challenges of e-commerce.

What characteristics are necessary in packaging designed for e-commerce?

Ensuring food safety; hygiene and preventing internal contamination of the product continue to be one of the priorities in packaging designed for e-commerce, especially at times like this when there is a health crisis. Fresh products that used to be sold unpackaged now need to be packaged for online shopping. Packaging increases consumer confidence and packaging in vacuum and protective atmosphere ensure improved food preservation.



Providing suitable mechanical protection to withstand transportation, so that it looks good and is well preserved when it reaches consumers, bearing in mind the food transportation process.



Making it possible to display and showcase the product and see what is being purchased, making it easier to select the product when preparing the customer's purchase. The product should continue to be appealing and the contents need to be easily identifiable through printing or labelling or new solutions with bar codes or QR codes, etc.



Being sustainable and environmentally friendly and minimising the use of film. Using as little material as possible when packaging the product, taking into account the size, the thickness of the protective material, eliminating unnecessary packaging, etc. Packaging needs to be recyclable, compostable, manufactured using alternative materials that protect the product while also promoting sustainability.



Optimising space to facilitate transportation and cut costs is unquestionably one of the challenges of this new age of packaging. Excessive packaging is superfluous; consumers shop online and know what they want, prioritising receiving their shopping in a good condition. Lightweight and strong packaging, leak-proof, able to withstand transportation and handling.



In this new scenario, we must not forget the changes that end consumers' buying habits are experiencing, and these also have an impact on packaging. Online shopping is less impulsive, consumers know what they want and the marketing claims on supermarket shelves no longer serve any purpose. Consumers are also increasingly demanding and they have a voice on social media, allowing them to demand their rights and speak out against bad practices or purchases received late, in the wrong amount or in a poor condition.
Against the current backdrop, with exceptional social distancing measures, there are several types of online shopping that are becoming more popular, to which the industry will have to adapt: 
Home food deliveries. Delivery to the workplace or home is the option chosen by many catering and food establishments to keep their businesses going. The food is already prepared before it is delivered, in small portions, and it must also be possible to use the packaging as a vessel for eating: offering the option to heat it up in a microwave, being stiff enough to serve as a plate, accompanied by plastic cutlery and napkins, in addition to ensuring that the food is safe and well preserved.
Online orders from supermarkets to avoid visiting stores. The increase in online shopping will require changes in the distribution sector. It will be necessary to adapt the volumes of packages in proportion to the secondary packaging of each distributor and to reduce air freight. In the future, food will be delivered directly from the logistics platform, where it will be stored in packaging with a standardised size and shape. Labelling and product information will become increasingly important for ensuring the proper management of purchases and the safety of end consumers.
Producers who sell directly to the end consumer. Another trend in the current situation is direct sales from the producer to the end consumer. The temporary closure of bars and restaurants has forced many producers to deliver meat, fish, vegetables and other fresh products previously destined for catering establishments to end customers. These products require suitable packaging to ensure their preservation and make sure that they reach consumers in a good condition.

ULMA Packaging was already providing packaging and solutions designed for the food industry that can be used for sales through e-commerce, ensuring the safety and preservation of the product and promoting sustainability. Additionally, we need to observe how these new trends evolve so that we can continue to offer solutions that are adapted to these modern times. E-commerce is presenting new challenges for the packing and packaging industry, which will have to be flexible and quick to meet the new market demands.