Anuga Foodtec 2015: highlights at ULMA's stand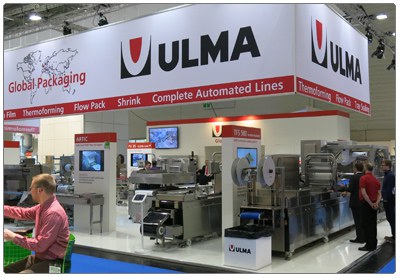 In the last edition of Anuga Foodtec, ULMA Packaging showed various installations which caught the interest of the large amount of visitors received at its stand.
Complete traysealing packaging line based on our latest TSA 875 high efficiency traysealer
New hygienic design TSA 875 traysealer, for easy cleaning and strong sealing force which allows up to 20 cycles per minute (17 with MAP), integrated in a complete line with sealing inspection system and automatic case packing of trays into carton boxes or plastic crates.
Thermoforming
TFS 500 thermoformer with automatic sliced product loading for processed meat or cheese. The loading automation system is based in intelligent belts and a loading robot which allows to feed the thermoformer with different configurations and positions.
The TFS 500 incorporates a quick format changing system to allow die change operations to be made without tooling.
DARFRESH ®
TFS 407 thermformer specially designed to use SEALED AIR's DARFRESH® film. Targeted to skin vacuum pack of fresh and ready meal products.
FLOW-VAC®:
The FV 35 was showed at the stand. This machine is smallest model within the FLOW-VAC® machine range, which was integrated with a new vacuum chamber.
- Automated packaging process.
- Prevents seal contamination.
- Important reduction of reprocessing due to vacuum loss.