Hispack & Bta: packaging machines and automation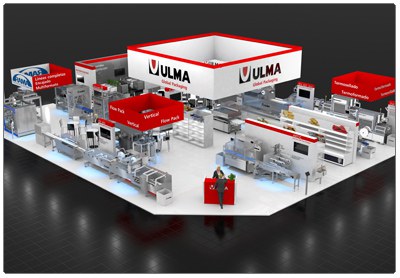 ULMA Packaging will be showing at Hispack & Bta the latest technologically advanced packaging machinery and automation
We remain a world reference in packaging solutions and automation and can proudly say we have the widest range of packaging technologies: flow pack (HFFS), thermoforming, traysealing, vertical (VFFS), stretch film wrapping and shrink (side seal and sleeve wrapping).
TRAYSEALING: skin protruding and complete lines with inspection systems
As a novelty, we present the TSA 680 traysealer for fresh products in skin vacuum for applications with protruding. This traysealer increases shelf life with the best appearance. We are also showing a complete traysealing line based in our latest high efficiency TSA 875 traysealer. Each equipment is self manufactured by ULMA: tray denester, traysealer, metal detector and UST (ULMA Seal Tester).
FLOW PACK: vacuum packing automation, reclosable packs and high production wrappers
Three different installations for three different applications.
An ARTIC side seal for fresh sliced products in a very convenient reclosable package.
On the other hand, the FV 35 integrated with a vacuum chamber of CRYOVAC®. An automated product transfer connects both equipments. This machine belongs to our FLOW-VAC® range developed to create a vacuum shrink bags adapted to product's length. At last, our high speed flow pack wrapper FR 500. Targeted to bakery and chocolate industries with an automated feeding system to guarantee its high output up to 800 pack/min.
THERMOFORMING: DARFRESH® and high production for sliced products
Two different machines with two different solutions. Our TFS 407 DARFRESH® thermoformer with film of CRYOVAC® for skin vacuum packing. We will also show, a high efficienci TFS 700 thermoformer targeted to slice products. This machine as previous, is fully hygienic design and its great autonomy guarantees a production of 90 pack/min. Both models belong to our wide range of thermoformers for fresh product packing in vacuum or MAP.
VERTICAL (VFFS): hygienic design with maximum efficiency
Our latest VFFS development for fresh and frozen products, specially designed for agressive environments. The VTC 740 vertical wrapper incorporates various innovative systems to reduce downtime to minimum: automatic reel and format change..
MULTIFORMAT CASE PACKING
For the first time, we will show an innovative multiformat case packing for carton box with automatic format change. This installation offers high flexibility for multiple formats and it's composed by a case erector, U10 robot based casing and closing machine.
Collaboratin with RAMA, worldwide reference in case packing and boxing, we will show the newest wrap around model: the RM W-AR-02.
Looking forward for your visit to our stand at Hispack & Bta in Stand D441 in Hall 3.