Innovative thermoformer-based solution with zero base scrap for LeafSkin™ packaging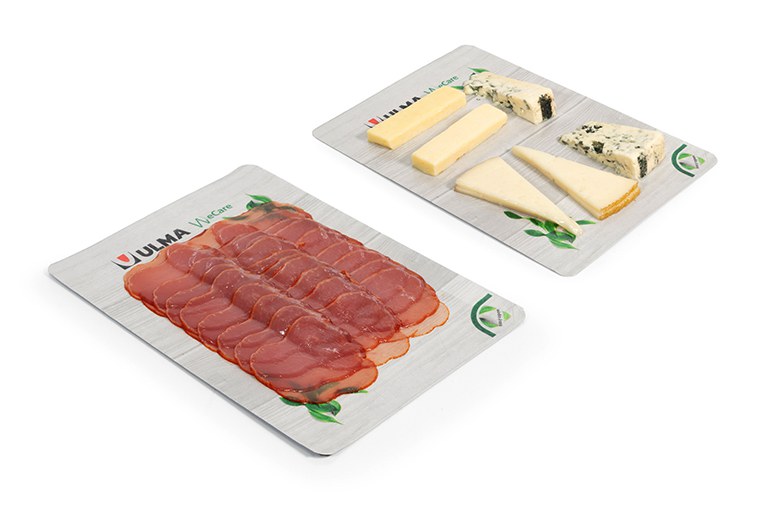 At ULMA Packaging we have taken a step further in our pursuit of sustainable packaging solutions by developing a new model of thermoforming machine to package fresh products in vacuum skin packs on a flat cardboard base.
The new TFS 216 uses cardboard rollstock to produce the flat, non-thermoformed base of the packaging, with the main benefit of not generating any cardboard waste.
The drag chains that are commonly used in most conventional thermoformers require part of the original width of the reel to be discarded.
The TFS 216 is equipped with an innovative bottom film traction system without chain, so the LeafSkinTM packaging produced by our customers retains all of the base material, regardless of its width.
This solution is part of our ULMAweCare range of solutions, which are ultimately aimed at offering our customers more sustainable packaging solutions with a smaller environmental impact.
Benefits of the solution
Packaging costs
Due to the lack of base cardboard scrap, save up to 11% compared to other conventional thermoformers with chain transport systems.
Save up to 48% in base material costs and ecotaxes compared to the precut trays used for traysealing.
Sustainability
Up to 80% less plastic compared to traditional skin packaging.
Logistics
A smaller carbon footprint associated with the transportation of packaging material.
A smaller carbon footprint associated with waste management.
If you would like further information about the various LeafSkinTM solutions offered by ULMA, do not hesitate to contact us via the contact form that is just below.