Packaging automation by ULMA Packaging. Highly efficient automatic lines at Interpack 2023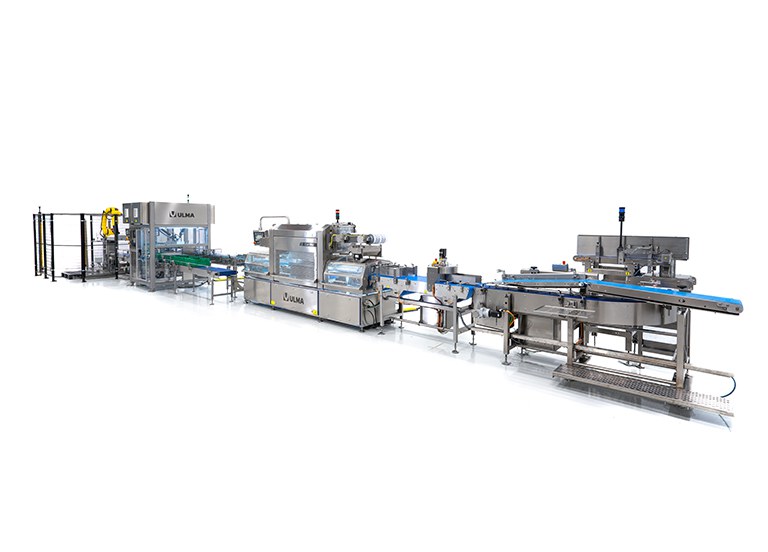 Hall 5 Stand C23
One of ULMA's key areas of focus is the automation of packaging processes and our automatic tray sealing line is one of the systems that we will be showcasing at our stand.
This line, equipped with the TSA 1000 D double tray sealer, has been designed to maximise efficiency, reaching outputs of up to 120 trays/minute and minimising downtime.
Automatic line for optimum productivity

At the start of the line there is a tray destacker (1), which includes a tray buffer, so the line always has enough trays to maintain optimum productivity of the line.
The automatic loading of the product (2), which in this case are blocks of minced meat, is carried out by a synchronized belt system that smoothly places the product inside the tray when it leaves the automatic destacker.
At the centre of the line is the TSA 1000 D double tray sealer (3). A double-line packaging system which is capable of producing 120 trays per minute with a modified atmosphere and perfect sealing to preserve the product in an optimal condition until it is consumed. Featuring a double reel-holder equipped with an automatic reel changing system (4), it avoids production stoppages due to a lack of film.
The CP 200 packing cell (5) that follows this is a compact system in which the robot is equipped with a flexible handling gripper that allows the trays to be arranged in different patterns inside the boxes. It has two highly versatile mechanical grippers that are capable of positioning the trays according to the preset configuration.
The end of the line features a highly compact palletising cell (6) with a very small footprint and it has two pallet loading areas. It can operate continuously and its safety system allows the finished pallet to be removed without having to stop it, so that it can be replaced with a new empty pallet.
Single-source supplier
The system being shown at Interpack clearly demonstrates the benefits of having a single-source supplier like ULMA Packaging when adding automatic packaging lines.
Our specialised engineers handle the design, assembly, delivery and technical support, as it is our goal to be a one-stop contractor and single-source supplier to cover all of our customers' needs and requirements throughout the life of the line.
As packaging machine OEM experts, we can combine ULMA systems and third-party equipment, to design a fully integrated packaging line that offers optimal performance and efficiency.
Smart machines
The entire line is automated and integrated with a centralised system so that all parts of the line work in perfect coordination.
The TSA 1000 D traysealer itself is equipped with an industrial PC that maximises its capabilities and it is equipped with an RFID system that minimises human error by checking that the components are the right ones for the current recipe.
Sustainable packaging
ULMA's WeCare sustainable packaging claim is also a key part of all our solutions, including this automatic line.
The packaging produced is 100% recyclable because the materials from which it is made are fully recyclable.
Additionally, at Interpack we will display different packaging machines designed to optimise their energy consumption. The packaging machine's control system provides handy information on the consumption of electricity, air, water, and film.
Hall 5 Stand C23
Come and visit us at our stand at Interpack 2023. We will be delighted to show you this and our other lines, to offer you the best solution to suit your needs.