Presenting our new virtual showroom with automated packaging solutions designed for the bakery, baked goods, biscuits and sweet & confectionery sectors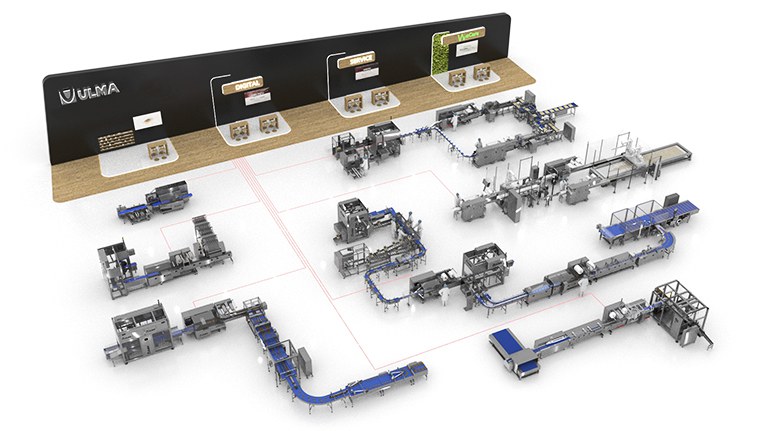 With videos for each of the seven systems that have been made available, the virtual stand has been designed to allow customers from the industry to find the solution that best meets their needs.
Virtual showroom for bakery, baked goods, biscuits and sweets & confectionery
In an unprecedented display, ULMA Packaging believed that our customers from the bakery, baked goods, biscuit and sweet/confectionery sectors would benefit greatly from being shown our seven different automated packaging solutions, with a specific video for each solution. These include:
Tortillas: Reclosablepackaging for stacks of tortillas.
Biscuits: Sustainable solution with primary and multipack packaging.
Baked goods: Automatic packaging and packing, as well as automated product loading.
Bars and snacks: Two different lines on which we show automatic lines with product distribution, primary and multipack packaging and a packing robot.
Wafers: Full automatic packaging and packing line.
Sample pack area
The virtual showroom also features an area with sample packs, sorted by product category and by packaging technology.
With over 150 sample packs, this virtual showroom contains a wide variety of photos of packs, among which you can find the perfect packaging for your product.
Digital, Sustainability and Service areas
In addition to the stand, we have included three highly important areas, in which we display information about digital, sustainability and service:
Digital – Digitalisation, connectivity, 4.0
WeCare - Sustainable packaging
Service - Taking care of the important things
Don't wait a moment longer: discover these exciting innovations that are now at your disposal on the following link:
Virtual showroom for bakery, baked goods, biscuits and sweets & confectionery