SIENNA, ULMA's new design to make every minute profitable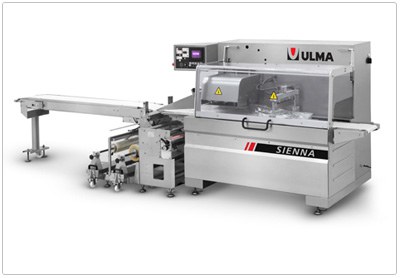 After more than 12 years in the market and more than 2,000 lines installed, the PV-350 family makes way for a new range of machines with improved features and easier user operation.
The new SIENNA family maintains the robustness, easy operation and reliability of its predecessor, while adding greater flexibility and versatility, as well as easier operation by providing access to the parameters via a touch screen.
The new head allows the new SIENNA family to reach higher production levels than the previous PV-350 family.
The number of double packs is reduced, and productivity is increased by approximately 10%.
HIGHER PRODUCTIVITY
FLEXIBILITY
EASY OPERATION
ERGONOMICS
AUTOMATION
The new SIENNA family is able to create short and long bags at the same time without having to change the machine´s configuration.
It´s equipped with a monochrome touch screen for user interaction, facilitating its operation.  Additionally, it includes "No Product – No Bag" and "Misplaced Product– Double Bag" as standard features.
The new SIENNA's reel holder is equipped with a mechanism that provides lateral movement, which allows for a single user to load the roll from the front side of the machine.
The SIENNA family´s new in-feed conveyor belt is designed with an open back side so that it may be connected to another conveyor belt, making it possible to automate the line.  Its new design also makes cleaning easier by minimising areas that accumulate residue.
SIENNA machines incorporate barrier photocells that provide improved product detection at the sealing clamps.  Additionally, the sealing clamp signal may be activated from the photocell at the clamps or the one on the conveyor belt.
The high flexibility, proven reliability and technological innovation applied to the new SIENNA family makes it the ideal packaging solution for a wide range of applications in the food industry, and especially in the produce, meat, dairy sectors, etc.