ULMA at Anuga FoodTec 2012 - Reliable and flexible packaging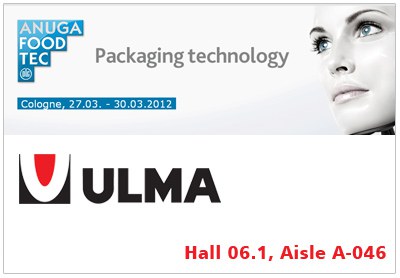 Köln, 27-30 of March
ULMA Packaging will be showing at Anuga FoodTec a sample of its wide range of packaging solutions for the food industry. Packaging solutions aimed at simplifying product marketing, offering more flexibility and adding value to the final product while ensuring product preservation.

ULMA Packaging, specialist in food packaging, offers a wide range of customized packaging solutions, including Flow Pack (HFFS), Vertical (VFFS), Traysealing, Thermoforming, Stretch Film and Shrink wrap machines.
We also offer a wide range of automation solutions from product autoloading systems to automated case packing and palletising end of line processes.
Equipment exhibited:
TFS 700 thermoformer with automated product loading
Hygienic design thermoforming machine which allows cleaning with pressurized water. A D12 delta automatically robot loads sliced products into the thermoformer.
TFS 400 thermoformer for skin pack packaging
Designed for skin pack packaging of meat, cheese and fish. This packaging method enhances product appearance. Our entry level machine for thermoforming skin pack packaging.
Complete line based on VFFS VTC 700
The installation includes a product elevation belt, Marel's multiweigher and a high speed continuous motion VTC 700 machine (VFSS).
FM 300 Flow Pack wrapper for MAP packaging
The packaging solution displayed is whole salami packaging in flow pack with modified atmosphere which ensures hermetic sealing with a hygienic design machine, at a low capital investment level.
Looking forward to seeing you on our stand at Anuga FoodTec 2012 in Hall 6.1 Stand A046 B049.