ULMA introduces the FR 400 TWIN: a new compact high-output horizontal wrapper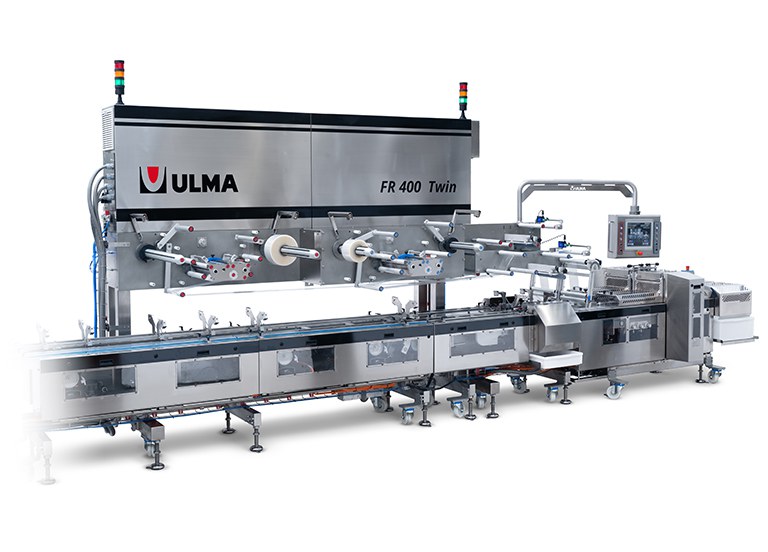 Efficiency and ease of maintenance in compact spaces
ULMA, the world-leading company in the design and manufacture of packaging machines, has announced the launch of its latest technological development, the FR 400 TWIN high-output horizontal packaging machine designed for the industrial bakery, confectionery and biscuit sectors.
FR 400 TWIN: Two machines in one
The FR 400 TWIN is part of the FR wrapping machine range and has been designed to provide an efficient solution to meet high-output requirements in a compact design. The machine occupies up to 50% less space, which makes it the perfect choice for optimising the area required in the production plant.
The standout feature of this system is its ability to combine two separate machines in parallel into a single unit which, when operated by a single operator, delivers high efficiency and productivity.
With output speeds reaching 2 x 70 meters/min and up to 2 x 700 packs/min and the capability of being adapted to the different packaging formats required, the FR 400 TWIN is poised to become a benchmark in the market, providing customers with the versatility they need.
Ease of use and maintenance
ULMA's new product development experts have ensured that its design enables easy access and maintenance to guarantee optimal performance and a long service life.
A key feature of the FR 400 TWIN is that it is easy to access and operate, with the practical top-mounted electrical cabinet, ensuring easy access from both sides for maintenance and ease of cleaning.
Single HMI
The machine is equipped with a user interface with a user-friendly and intuitive design to facilitate the operation of the machine developed to allow both machines to be operated from a single control panel.
Improved TCO
The ease of maintenance and cleaning provided by the FR 400 TWIN has a direct impact on the Total Cost of Ownership (TCO), generating long-term savings for companies.
Another aspect that can radically improve the TCO is if the project is to be sized for two FR 400 TWIN lines.
This scenario, which in production terms would be equivalent to four FR 400 machines, could be set up in a mirror arrangement, making it possible for a single operator to handle the two TWIN lines.
Productivity, reliability and efficiency
In short, ULMA's FR 400 TWIN represents a qualitative leap in high-output horizontal packaging. With its format flexibility, productivity, reliability and production efficiency, this machine is the right solution for medium to high-output companies looking to improve their packaging capacity and deliver high-quality packaging.
ULMA remains committed to innovation and excellence in packaging, and the FR 400 TWIN is a clear illustration of its passion for improvement and innovation in the industrial bakery, confectionery and biscuit sectors.
As a global company with a customer-oriented approach, ULMA Packaging has established itself as the preferred partner for the development of competitive, high-value packaging solutions.