ULMA Packaging designs a new system for fresh chicken packaging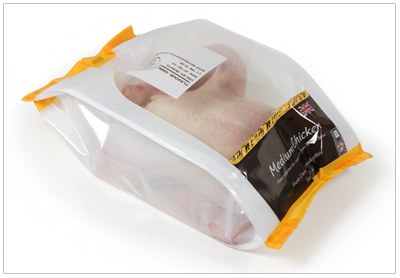 ULMA Packaging has developed a new packaging format for the chicken market that offers a better presentation, protection and hygiene level avoiding contamination. The technique is to use am Artic Quad flow pack wrapper to create an improved pillow bag pack version for whole chicken.
The packaging system includes a modified atmosphere process to increase the product's shelf life. Once the envelope of the bird is produced (with or without tray), the equipment seals the film from four corners to create a box-like effect. This allows the packer to print on both sides to improve displaying of product in shelf.
In the case of Asda grocerys in UK, have gone a step further and using a bakeable film, have launched a whole chiken package ready to roast in the bag itself. Thus, the consumer requires no handling the product to roast in the oven: direct from the supermarket to the table.
The product is marketed and prepared with different sauces and spices to allow the consumer to choose the flavor he like best.