ULMA Packaging improves the remote support to minimise its customers' machines downtime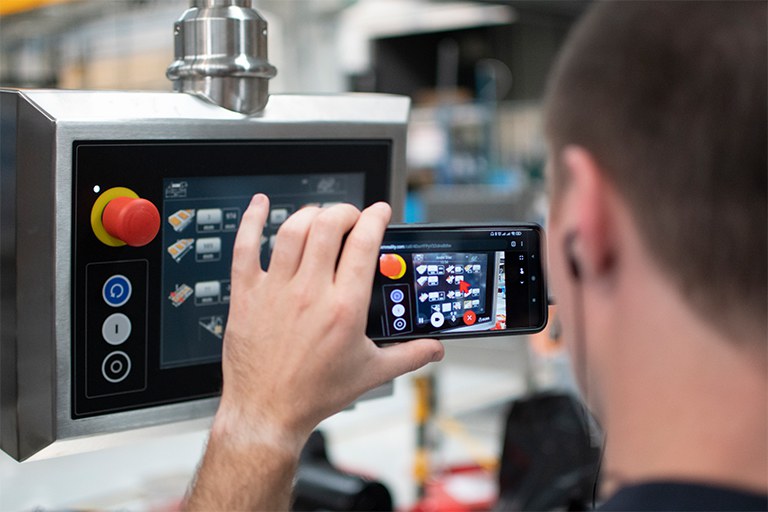 ULMA Packaging adds an augmented reality-based video calling tool for smartphones and tablets that makes it possible to remotely identify and view problems in real time. Facilitating diagnostics, reducing communication errors and making it possible to provide clearer instructions, to get the machine back up running as quickly as possible
This remote assistance system is an improvement on previous systems such as support provided over the telephone or via WhatsApp, for ULMA's customers who have an internet connection in the vicinity of their equipment.
The benefits of ULMA's Remote Support
Remote support via video calling makes it easier to report issues and it allows ULMA's technicians to provide clearer instructions, resolving problems in real time. The application gives you a live view of what is happening in the machine as you speak and instructions are provided on the screen.
When the customer gives their permission, it is possible to record and store information about the steps followed, for subsequent analysis by an ad hoc team of experts.
It requires no installation and it is easy to use
No need to install any software or application and with minimal hardware requirements, this communication system enables seamless interaction between ULMA's technician and the customer.
Rated highly by ULMA's customers who have used it
Customers with 'Remote Support' have had a successful experience. The ones who have used it and have a suitable internet connection have highlighted the following aspects: 
Shorter response time. Whether in the form of accurate troubleshooting or by finding a final solution for the problem, the resolution time is shorter.
It reduces machine downtime.
It often avoids the need for an on-site visit by the technician, resulting in significant in lower expenses and travel time.
Communication between ULMA and the customer is smoother and clearer.
It provides quick and easy access to ULMA's experts advice.
Response speed
 We are aware that proper diagnostics require a quick and efficient solution. By this communication system and with all of the necessary information, we are sure to always offer our customers the best service at the lowest cost.
Augmented reality
Through the augmented reality capabilities offered by this tool, our expert is able to provide instructions on the image being captured by the camera on the customer's device, allowing them to clearly indicate the relevant elements to work on.
Sharing electrical diagrams and assembly drawings
Additionally, the application makes it possible to share documents, with the option to add notes in real time, to ensure smoother communication between the expert and the customer.
Secure service and connection
When it comes to remote services, data security and privacy are of the utmost importance. Therefore, our services include a broad range of security features that meet the highest standards, such as; secure VPN connection, certificate-based encryption and access restricted to authorised personnel. All through a secure server infrastructure.
At ULMA Packaging we are constantly evolving to offer the best possible service to our customers. We strongly believe in close relationships where trust is the key for success.