ULMA Packaging offers the best solutions in the field of food safety
The reason why most people, when faced with an unfamiliar dish, ask if it is good before trying it is that we take something much more important for granted: that it's safe.
Providing harmless food that is free from toxins and health risks has always been a central issue for the food industry, but aspects like hygiene and cleanliness have rarely been so important for consumers as during this Covid-19 health crisis, in which extreme precautionary measures are required to prevent contagion.  
Today more than ever, guaranteeing safety must be the main commitment of all companies linked to food production, processing, distribution and sales. And ULMA Packaging has safe solutions adapted to every type of product to help them do so. These innovative and effective solutions avoid contamination risks, facilitate the traceability of products, extend their shelf life and prevent food waste.
Packaging: a key aspect of food safety
At ULMA Packaging we know that packaging is essential for ensuring food safety. That is why we maintain the highest degree of commitment and care when designing each and every one of our systems. Our machines feature cutting-edge packaging systems, so that the product retains all of its properties when it is consumed. They have hygienic designs to prevent the accumulation of dust and dirt and they are designed to be easy to clean.
At ULMA Packaging we provide top levels of technology and design at competitive prices. We are world leaders in manufacturing packaging equipment with maximum quality and reliability. Our manufacturing processes have approved quality procedures and all our machines have the CE marking. We have our own production centre used exclusively to manufacture stainless steel parts.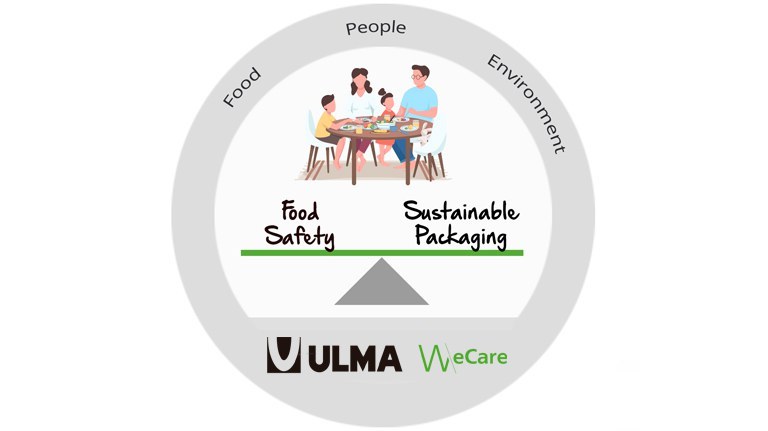 4 reasons to protect your product with ULMA Packaging
At ULMA Packaging we protect food during the entire production, processing and distribution chain and we do it not only with fruits and vegetables, but with poultry products, red meats, and bread and bakery products.
Our solutions have been designed to minimise environmental impact by reducing the amount of packaging required for each product, and to comply with the 4 basic requirements of food safety.
Prevent contamination risks: This is our main food safety goal towards which we direct all our technological efforts.
Extend the shelf life of the product: Solutions like vacuum packaging and modified atmosphere packaging (MAP) not only prevent contaminations but extend the shelf life of products.
Reduce food waste: A third of all the food produced globally for human consumption is wasted each year, or approximately 1,300 million tonnes, an amount that would be enough to end world hunger. At ULMA Packaging we have joined SAVE FOOD, a global alliance to reduce food waste across the entire value chain promoted by the Food and Agriculture Organization of the United Nations (FAO), the United Nations Environment Programme (UNEP), Messe Düsseldorf and Interpack, the main trade fair for the packaging industry.
Provide information about the product and its traceability: Traceability is the ability to track all processes, from the purchasing of raw materials to production, consumption and disposal, in order to know when and where and by whom a food item was produced. This provides the entire consumption chain with transparent and real information about products and makes it possible to take immediate and effective action if foods are detected to be harmful to human health.
Solutions for a booming sector: food delivery
Few sectors have suffered more during the pandemic than hotels and restaurants, which in many cases have had to reorient their businesses towards e-commerce. On many occasions this can mean finding solutions for transporting products that did not previously need packaging, and that now require packaging with mechanical protection during transport so that it can arrive to its destination not only with guaranteed food safety but perfect in preservation and appearance. We look for sustainable and attractive packaging solutions that allow consumers to quickly identify products, and we help companies reduce costs by optimising transport space as much as possible.
Social distancing measures have led to the rise of three types of e-commerce with specific packaging needs:
Home food delivery: The delivery sector requires stiff packaging that can be heated in the microwave, used as plates and that includes cutlery and napkins.
Online supermarket orders: The future of packaging in this market niche involves reducing air transport, adapting volumes to the secondary packaging of every distributor, and providing labelling solutions that facilitate management with consumers.
Producers that sell directly to consumers: In addition to local producers, restaurants and bars have also opted to sell their products directly to consumers, a growing trend that will require these businesses to find packaging solutions for many products including beverages, appetisers, snacks, soft drinks and all types of foods.
Don't hesitate to contact us if you are interested in learning more about food safety or any other packaging system.