ULMA Packaging, optimising packaging processes through automation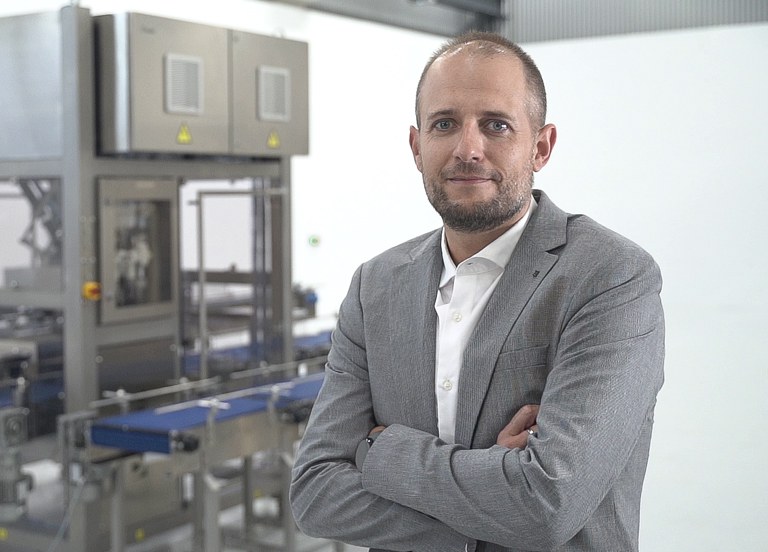 Automation helps to transform packaging operations and deliver a number of key benefits for businesses. Discover how using automated technologies can revolutionise efficiency and productivity in packaging processes.
In an increasingly competitive business environment, automation has become a key strategy for maximising performance, return on investment and process control. By integrating advanced control systems and specialised machinery, companies can significantly increase their production capacity and improve packaging quality.
In this article, we delve into the world of packaging process automation, and explore how automated solutions can optimise operations, reduce costs and improve the overall efficiency of the packaging line.
---
We interviewed Jon Larreategi, Product Manager and an expert in the automation of packaging processes, who answered key questions about the benefits and best practices when it comes to implementing automation in this vital area of the industry.
What benefits do you think automation can bring to the packaging process?

It will depend on the needs and area or business of each company, but there is no doubt that automation provides many benefits, most notably:

• An increase in production capacity and the number of packs per machine
• Greater packaging line efficiency (OEE)
• Improved production flow within plants
• Material and cost savings for each pack
• Savings in labour costs
• Reduced maintenance and repair costs
What kinds of companies may need to automate their packaging processes?

Any company is able to partially or fully automate its packaging line. But each company is different and does not have the same needs. That is why at ULMA Packaging we tackle each project differently and tailor the approach and resources according to the size and automation requirements of each company.

For large companies with complex plants and several packaging lines, we can handle full or partial projects either by designing a solution from scratch or by integrating any existing packaging technology into an automatic line, making the packaging process as efficient and reliable as possible.

For smaller companies with more flexible requirements for the automation of primary packaging machines, we design and integrate custom solutions. We tailor our automation technologies to optimise the performance and efficiency of packaging lines, bearing in mind the specific requirements of each customer.
Which automation solutions are most demanded?

In my experience, I see that many companies require automatic systems to facilitate product HANDLING and DISTRIBUTION to the different parts of the packaging process. Others however, only require the optimisation or automation of PRODUCT FEEDING to the primary packaging machines.

We must also remember the INSPECTION SYSTEMS that enable proper product and packaging quality control.

Finally, many other companies with packaging machinery require an end of line SECONDARY AND TERTIARY PACKAGING solution that often ends in PALLETISING.

Having said that, looking at the range of products that we offer, our wide range of packaging machines and fully automated systems mean that we can offer our customers primary packaging machines and turnkey solutions that are tailored to their needs.

Whether we are designing a solution from scratch or integrating specific technology into our customers' packaging processes, we strive to improve the efficiency and reliability of those processes.


Can you explain how ULMA Packaging can help different companies to automate and optimise packaging lines?

In ULMA Packaging's automation division, our job entails assessing the specific needs of each customer and developing custom solutions that optimise productivity and minimise start-up times, while occupying as little plant space as possible.

This requires us to work side by side with each customer, as each project is different. It also requires conceptualisation and working together in order to achieve good results. 
What types of technologies and process controls are typically used to ensure high productivity rates and optimal packaging quality?

The chosen process control technologies and methods will depend on the type of packaging and the specific manufacturing process. For example, we use:

• Automatic control systems, such as PLC and SCADA, to monitor and adjust the various process parameters.
• In-line inspection systems, such as machine vision cameras and sensors, to detect and correct any defects and perform in-line quality control as the packaging is manufactured.
• Traceability systems: Barcode or RFID tags are used to track and log relevant information about the manufacturing process, making it easier to trace and identify problems.
• Process control systems (PCS), quality control and data analysis.

At ULMA Packaging, we use OEE indicator-based efficiency control systems to ensure high productivity rates and optimal quality and efficiency in packaging solutions.

To do so, we capture production data from the line in real time and provide tools to analyse this data to ensure correct decision-making. Furthermore, we implement strict process control to ensure consistency and reliability at all stages of packaging.

Additionally, ULMA machines are designed for seamless integration with the main production planning systems (MES, ERP, SCADA). This integration allows key information to be shared, e.g. regarding manufacturing order management, parameter files, alarms and equipment efficiency management.
What are the benefits of working with a single-source supplier?

The benefits of working with a single source supplier lie in the ability to integrate proprietary machines and third-party equipment into a packaging line that delivers optimal performance and efficiency.

This ensures an efficient workflow and smooth communication between the customer's company and the supplier, facilitating the management and optimal development of the project.
How do you ensure the successful start-up and reliability of the packaging line?

Unlike other suppliers, we perform testing on the lines in our factory before they are sent to the customer. These tests include operating checks, quality controls and simulations of real production scenarios. This allows us to reduce the start-up curve and ensure that the line is ready for optimal operation from day one.
Could you provide some examples of customised projects you have carried out in the past? How do you tailor the design to the specific requirements of each customer?

As I said earlier, because each sector has its own characteristics, our approach is based on customised projects. Thanks to the experience we have gained over the years, we have in-depth knowledge of packaging processes and extensive experience in automation technologies, enabling us to design custom machines and solutions that maximise efficiency and meet individual requirements.

Several projects come to mind, but here are some examples where you can see some of the specific solutions and applications that we have been working on over the years. - link