ULMA Packaging installs a packaging line with a TSA 875 traysealer, at Montaraz de Garvão.
Montaraz is the company in Portugal that slaughters, cuts and processes the most black pig pork.
Founded in 2007, the company started the implementation of an investment program in its manufacturing unit; a large-scale project that it requires suppliers able to offer an integrated and a comprehensive packaging solution.
In this scenario, ULMA Packaging was once again the company selected to supply the the most advanced packaging equipment of its kind and meet all safety requirements in the production of black pig pork products. High-tech equipment that meets the safety standards of the demanding European legislation.
Monitoring of technical and technological operations at each stage of production. Continuous improvement of processes to produce high quality natural meat products. The product's long useful life, over which it maintains its predefined characteristic quality and innocuous nature, suitable for consumption, and the offer of excellent tasting products at an attractive price, were the factors considered by the production managers of the company from the district of Ourique during the decision-making process.
Due to the need to source equipment that meets its customers' production requirements, as it is mainly for large-scale distribution, Montaraz de Garvão decided on a line with a TSA 875 traysealer.
"ULMA Packaging continues giving an excellent response to our evolving needs to meet the ever-increasing demands of the market, particularly in its commitment to sustainability. A good example is the new recently acquired LeafSkin packaging line, which allows us to substantially reduce the use of plastic and cardboard in the packaging of sliced charcuterie products made from black pig pork", explains Rui Fialho, managing partner of Montaraz de Garvão.
The ULMA Packaging team offered a comprehensive service based on their experience as meat packaging product specialists to propose the most suitable design solution for the packaging line.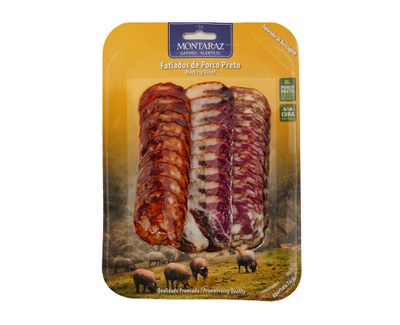 HIGH PERFOMANCE TRAYSEALER: TSA 875

Up to 22 cycles/minute in cut&seal and up to 19 cycles/minute in MAP. Automatic traysealer for all types of preformed trays. It allows: Modified Atmosphere Packaging (MAP) and SKIN vacuum packaging. It has a tray transport system with servomotor-driven arms and an automatic cardboard feeder system as well as a cardboard rotation system. This is the hallmark of a machine suitable for integration into process automation, with excellent performance in the mid-high production range.
The ULMA TSA 875 traysealer can use all kinds of packaging materials (PET/CPET/PP/Cardboard etc.) as well as different high quality printed and non-printed films. Everything depends on the required solution.
The ULMA Packaging engineering department has designed this machine for integration into medium-high speed production lines or high precision tray and cardboard positioning processes. The tray sealing process can be performed in one line (single line) or in two lines (double line), depending on the formats to be packaged.
When it comes to the design of the TSA 875, we highlight its versatility, low maintenance costs, ease of handling, robust construction, ease of cleaning and sanitising, energy efficiency, sealing power, high performance and the ease of changing format.