Hygiene thermoforming machines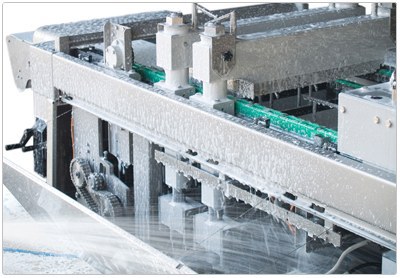 ULMA presents a new range of thermoforming machines, designed to cope with rigorous high-pressure water cleaning methods, required for strict hygiene standards. With improved safety and build quality, hygienic operation in the most demanding sectors of the food industry is guaranteed.
The most demanding sectors require washing and deep hygienic cleaning of all the elements in contact with the product which is susceptible to contamination.  These high levels of equipment hygiene, calls for specific designs capable of supporting corrosive detergents, high-pressure water systems and disinfection procedures.

The new range of thermoforming machines from ULMA is designed to allow cleaning at the workplace. The attention to detail is highlighted by the following benefits:

ACCESSIBILITY

Areas prone to accumulation of deposits and residue should be eliminated and allow easy access to cleaning.

Generally the machines must have easy access for inspection, maintenance, cleaning and disinfection procedures. The detailed hygienic design should not be limited to the  visible perimeter of the machine, but also integrated with the working parts on the inside of the machine.

SELF-DRAINING SURFACES  

All surfaces should promote effective drainage of water, detergents and disinfectants used during the cleaning and disinfection procedures.

Likewise the interior of the machine is designed in such a way that both solid residue and the liquids do not accumulate.

CONTACT BETWEEN PARTS

The areas where residue could accumulate, promoting the proliferation of bacteria, must be eliminated by adopting advanced hygienic engineering designs. This is made possible by means of watertight, continuous welding runs or alternatively avoiding acute angles, allowing effective cleaning between working parts.

RESISTANCE TO CORROSION 

Only high quality stainless steel and other food-grade materials, suitable for the food industry are selected, providing a completely corrosion resistant construction.

DEGREE OF IP PROTECTION

The most critical electrical and pneumatic areas are protected by watertight compartments, providing a protection rating of  IP 67 or even IP 69 where the areas require more intense cleaning.

In extreme cases and at the client's request, the main electrical compartment can be separated from the machine in a specially protected area.
 
The new range of thermoforming machines TFS include 4 different models, tailored to suit the customer's  production and packing needs.

All the models of the TFS range have been designed with the sanitation concept in mind and therefore comply with the new market requirements regarding strict cleaning and hygiene procedures in the packing areas.
 
The TFS 700, the model with the highest specifications of this new range, has been developed with a flexible chassis that allows using film widths from 320 to 720 mm wide. The machine is capable of forming packages 210mm deep and advances of up to 1,100 mm

This allows high production levels and demanding package formats when needed.

Fit for purpose, the machine has an exceptionally robust chassis, different lifting systems, with two or three columns and pneumatic or motorized activators. All machine elements are controlled by an industrial PC, with the possibility of obtaining data and production statistics.
The necessary interfaces has been developed for integration in automatic packing lines that incorporate elements such as artificial vision for detecting products, loading robots, container inspection, contents inspection, closure safety, unloading robots for latter boxing and palletizing of the containers.

The complete TFS range - 200, 300, 500 and 700, keep and in many cases have improved the characteristics that have made the ULMA thermoforming machines so popular in European markets:


Easy to use
Simple and friendly interface
Low level of maintenance
Flexibility
Ergonomics
Ease in format changes


The new range of TFS thermoforming machines has been presented in the Trade Fairs: BTA-HISPACK that was celebrated in Barcelona from 11 to 15 May and in Tecnocarne celebrated in Verona from 15 to 21 May.

During the BTA-HISPACK Trade Fair, the new range of thermoforming machines attracted a lot interest and the visitors noted that ULMA's thermoforming range is well positioned in the market. Together with this new release, the following product applications and were presented:


Integrate solutions for automatic packing lines including a new line of thermosealing machines with automatic tray de-stackers, automatic product dosing, metal detectors, etc.
Dairy product packing, desserts and sub-products including product dosing and container decoration.
Automated product loading for different equipment utilising robots.
Automatic boxing and palletizing units.