ULMA Packaging exhibits its latest Packaging Solutions at Interpack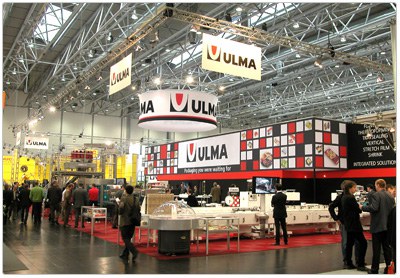 ULMA Packaging stood out at the Interpack trade show that was held in Dusseldorf on April 24-30. ULMA launched its latest packaging solutions in its 390 m2 stand with an innovative design.
Five packaging solutions drew the attention of visitors, who approached the stand to learn more about the latest packaging solutions proposed by ULMA.  The ATLANTA + ATLANTA packaging line gathers products that have been packaged individually and creates a multipack with the desired number of units.
The ARTIC+ROBOT packaging line for frozen mini-pizzas allows for the product to regenerate in a microwave oven, resulting in a crispy crust for consumption.  The automated load system is equipped with artificial vision that allows it to control product quality before packaging.

The EVEREST vertical wrapping machine, which is one of the fastest available on the market, is characterised by its flexibility in terms of format changes, dosages, and versatility in adapting to any type of film, along with its high performance.
OPTIMA, a hygienic packaging machine, provides innovative elements that facilitate the machine´s cleaning and hygiene.
The SCORPIUS 100 tray sealing machine presented in Dusseldorf is equipped with automatic product loading for subsequent tray sealing in the machine.

Five innovative proposals that are a small sample of ULMA's commitment with the future, innovation, efficiency, design, and above all, customers.