Vygon, packaging machines combining productivity, safety and automation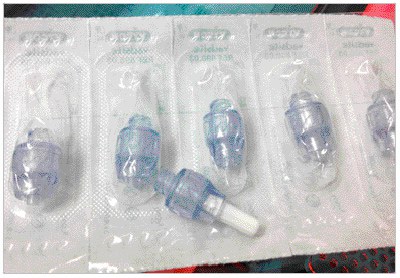 Vygon manufactures sterile medical devices for single use. Their international reputation is shown by their quality but also by the stringent demands the company makes on its packaging suppliers. In most cases, these are in line with assembly machines.
Vygon, specialists in sterile medical devices for single use (1), is a family company which last year celebrated its 50th anniversary and has acquired an international reputation over twenty years in business, particularly in one of its specialities: catheters. With six factories, including three in France (SIPV, SAP and SIPA), one in Germany, one in Belgium and two outside Europe (Colombia-1998 and the U.S. -2007), it managed a turnover last year of 253 million Euros (€ 243 million in 2011), with a rise in profits and a "very respectable" income.  The company invests up to 7% of its turnover.
(1) Used in the fields of neonatology, paediatrics, anaesthesia, pain management, emergency, intensive care, operating theatres, and oncology


In an industry where competitiveness is becoming increasingly fierce, particularly in relation to prices, the company continues to grow "while we are certainly the most expensive in the market" according to Eric Trellu, director of Industrial Facilities Methods (MCI). So how can this French paradox be explained? There are several reasons. Growth is explained by high levels of market awareness provided by proximity of marketing and commercial departments. Hence the new products launched for homecare professionals in 2009 - HAD Home Hospitalisation -kits comprising of standard devices that show an increase of 10% a year.
Sterilization at Vygon
All products manufactured by Vygon are routinely sterilized. With the strengthening of legislation, the company decided 10 years ago to centralize its European sterilization operation in a single location. Located in Verneuil-en-Halatte, the site has four autoclaves, each holding up to 30 pallets (the equivalent of a semi-trailer) per single operation. The sterilization cycle is performed using ethylene oxide and lasts 22 hours. A sterilization label is affixed to all crates coming into the autoclave. On exit, the label changes colour, showing that it has been through sterilization. The total surface area of the site is 13,500 m2 of pallet storage.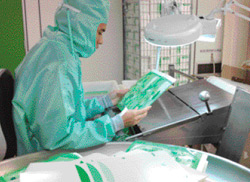 This growth is also due to the full integration of all activities. The company designs all of its devices, it transforms plastics (by extrusion and injection), assembles, packages, sterilizes (insert p. 6) and sells everything that it produces (with the exception of most operating fields). This integration of the entire value chain is based on three fundamental priorities - innovation with two research centres, safety and quality. "Our customers are willing to pay more for the best" emphasizes the MCI Director.

The best means validation of all products (materials and components) manufactured by the plants by Vygon's central laboratory at Ecouen, with each site also having its own quality manager. The laboratory ensures the compatibility of all materials (PVC, PE, polycarbonate, polyurethane, PUR, POM…) included in the composition of the constituent parts of a catheter right up to its assembly.
For three years now the company has been researching alternatives to BPA molecules which will be banned in medical devices in 2015.

The MCI service, consisting of 35 employees, has an R&D workshop that evaluates all new processes. Equipped with four presses including one of liquid silicone, it evaluates the behaviour of plastics, mechanization and assembly mold prototypes, among others. E. Trellu states "We are currently looking for a new arterial catheter for the German and English market with new automation. We have been in the test phase for a year now, both in production design and in assembly".

The best also requires strong industrialization with increasing automation of machinery. "A necessary condition for producing quality and continuing to produce in Europe" states Mr Trellu.  This industrial strategy is based on an extremely rigorous level of control and monitoring and has been further strengthened in the last three years.

«"Every country has its own interpretation of current legislation, and foreign clients require very advanced controls" noted the Director. The fact that the company exports around the world strengthens its level of control beyond European regulation and standards. On every assembly machine, each operation is controlled by specific means according to need and vision of the systems. "In this company we have two people dedicated to vision in addition to partnerships with specialized companies," says E. Trellu. Once the vision is broadcasted throughout Vygon, the firm will begin to implement other control systems including metering and dosing by milligram.

At Vygon everything is implemented to speed up automation and productivity. Thus any assembly machine is linked to a packaging line, as illustrated by the recent installation of a machine that assembles a long-term connector. Said machine consists of three parts at the rate of 250 parts/min (15,000 parts / hour) and packages them at a rate of 20 parts at a time in a flexible blister unit at a speed of 18 000 parts/hour. Between the two machines there is a stock buffer whose job is to avoid any interruptions in productivity. ULMA Packaging has been working alongside Vygon for 5 years now and has collaborated in researching this line. Today, the group has 13 machines manufactured by the Spanish company. Recently, a 2nd multi-format thermoforming line with quick-change of tooling was installed at Ecouen and soon a third will be sent to Colombia to replace the older German manufactured machine.
The director adds "I admit that my first contact with ULMA was initially motivated by price, a not insignificant criterion because at the time we needed three new machines for the output of three new assembly machines. Then gradually, as our discussions progressed, we discovered that the manufacturer incorporated standard bases and components in its machines. This was a very strong argument in its favour. This standardization makes us less dependent on the manufacturer since in case of failure, everything moves a lot faster. We have also been impressed by their openness and their ability to listen to the 
customer". "We do not want to make captives of our customers", says Philippe Desbordes, Commercial and Communication Director of ULMA Packaging France.

If we are asked for a particular system, we are able to carry out its manufacture smoothly because we have established several partnerships in this area. "This was the case in Ecouen where an industrial PC B&R replaced another system proposed by ULMA on its machine. The manufacturer analyses the customer's needs right down to very specific requests. "This allows us to move forward" says Mr  Desbordes.     The Ecouen site had to solve a problem of changing particular formats. "The machine was driven by women who were unable to use heavy machine tools and this meant lengthy machine stoppages" says the MCI director. We decided to send them ULMA specifications that we had put together with the operators. Today, the change of format takes less than 10 minutes without difficulty. We greatly appreciate working with Spain and being able to talk to everyone involved in the deisgn of our machine. There was a real exchange" concludes E. Trellu.
Article obtained from Emballage Digest #575